In March 1861 the Michigan Legislature passed Public Act 207, signed by the governor, to establish the Michigan Mining School at Houghton. It would have been the first mining college in the nation if the Civil War had not blocked appropriations. Mining Engineering was the first department established when the Michigan School of Mines opened in Houghton in 1885, dedicated exclusively to "mining and mining engineering." In over 126 years of its history, over 800 mining engineers have graduated from Michigan Tech.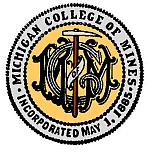 Mining engineers require a broad understanding of basic sciences, engineering, and economic principles. General education, communications skills, and comprehension of social factors are also important, since engineers often assume managerial functions within the mining industry.
To obtain these skills, the mining curriculum at MTU is structured accordingly. During the first two years, mining engineering students take many of the same sources that most engineers take, such as mathematics, physics, chemistry, engineering mechanics, english communication, computer science, economics, and geology. After completing fundamental courses, students take advanced science and engineering studies in fluid mechanics, thermodynamics, electric circuits and machinery, followed by professional mining classes in drilling and blasting, materials handling, rock mechanics, mine health and safety, mine ventilation, mine cost engineering, ore reserve analysis, operations analysis, mine planning, and minerals processing. Elective courses allow students to concentrate their studies in specific areas. These courses prepare graduates for entrance into the mining engineering profession, as well as provide a good background for more-specialized studies or advanced administrative positions.
The Michigan Tech Mining Engineering degree program offers advantages associated with a friendly learning environment and closely knit educational support group. These conditions allow students to interact more freely with other students and faculty, resulting in a more in-depth understanding of their prospective careers and better than average job placement.
Mission
The mission of the Mining Engineering degree program is to continue to improve and maintain quality undergraduate and graduate programs supported by an up-to-date curriculum and innovative research, and to produce technically competent mining engineers who possess team skills and are cognizant of the changing needs of an environmentally sensitive society.
Objectives
The educational objectives of the B.S. program require that graduates meet a large number of criteria including the following:


Possession of a strong fundamental scientific and technical knowledge base, and critical thinking skills, which will serve as the foundation for life-long learning;
The ability to apply science and engineering skills to the analysis and design of engineering projects;
The ability to effectively communicate technical/professional information in written, oral, visual, and graphical formats; and
An awareness and understanding of professional obligations to protect human health, human welfare, and the environment.
Vision
The vision of the Mining Engineering degree program is to prepare men and women to assume active leadership roles in industry, satisfying present and future needs of a global society through the development and implementation of revolutionary technologies for the extraction of mineral resources, and construction of underground structures in a socially responsible, economically viable, and environmentally sound manner.
The Bachelor of Science in Engineering (BSE) program for Mining Engineering is administered through the BSE Degree program
About the Program
Our state-of-the-art facilities allow students to experiment with advanced geologic technology. The department maintains labs dedicated to the study of remote sensing and volcanology, geographic information systems (GIS), subsurface remediation and visualization, and seismic petrophysics, among other areas.
Michigan's Keweenaw Peninsula offers beautiful outdoor facilities. The area surrounding campus is ideal for a wide variety of geologic studies. You don't have to drive far to find miles of rocky Lake Superior shoreline and acres of forestland.
Our curriculum focuses intensely on field studies; we teach two field courses in the summer but also provide plenty of opportunities for students to see classic and novel field sites in Michigan and beyond. Students have traveled to sites in Alaska, Canada, Florida, Guatemala, Mexico, Montana, Newfoundland, Nicaragua, and Utah.
Undergraduate research opportunities are plentiful. Our faculty conduct research abroad, and students often accompany them on field trips. You might study volcanoes in South America, Precambrian rocks in Australia (or right here in Michigan's Keweenaw Peninsula), or the Bering Glacier's melt rate in Alaska.
Our well-rounded curriculum emphasizes the study of geophysics and social geology, or methods for mitigating natural hazards through effective communication and community involvement.
Faculty and staff focus on giving students the personal attention and support necessary for not only academic success, but also a positive undergraduate experience overall. Learn from faculty who understand responsible utilization of our Earth.
Opportunities for intercultural exchange abound at Michigan Tech. The Study Abroad Program sends students to countries around the world for stints ranging from two weeks to one year. D80 allows students to apply their studies to the problems facing economically disadvantaged communities.
What career pathways are a good fit for our graduates?
Discover a world of opportunity. A bachelor's degree in geological engineering will prepare you for a career in industry or graduate study. Generally, geologists employed in industry spend part of their working time outdoors enjoying nature and, if desired, traveling the world. Students interested in certain sectors of industry, such as oil exploration, or a career in academia should explore graduate education options. An advanced degree provides greater specialization.
Our graduates have found work in the following areas:
Groundwater and surface water monitoring and cleaning
Natural-hazards mitigation
Satellite remote sensing of environmental processes
GIS mapping of environmental data
Site investigations of underground hazards
Slope failure investigations
Oil or gas exploration and recovery
Subsurface visualization
Natural and Induced Seismicity Evaluation
Where have our graduates found employment?