NEWS
from the Michigan Tech Lode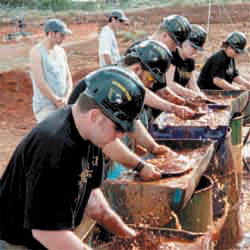 Gold Mining Earns Silver

By: Jana Jones - Senior Staff Writer
If ever you find yourself needing to have some gold panned, there is an organization on campus that is more than capable of helping you out. In fact, after placing second at the International Intercollegiate Mining Team Competition, the MTU Mining Team has proven themselves very capable of multiple mining techniques.

More than 20 teams from the United States and Australia gathered together in Kalgoorlie, Australia on March 22 and 23 to compete in the 24th annual competition. Michigan Tech was represented by five students total; Julie Varichak, Mike Larson, Katie Marten, Gregg Kahsar and Brad Feathers. The group included four mining students and one minerals processing student. MTU competed in the co-ed division of the event, along with four other teams.

The competition is aimed at keeping some traditional mining techniques alive. The team competed in seven different events; gold panning, in which they placed first, jack leg drilling, hand steeling, mucking, swede saw, surveying and track stand.

The competition is a grueling one, in which competitors swing 4 lb (women are allowed 3 lb) hammers for two minutes, fill an ore cart with gravel and push it down a secion of track, saw through a 6 foot by 6 foot chunk of material, and drive spikes into the ground to create a length of track.

Varichak said that all the team members competed in every event, with the exceptions of jack leg drilling and surveying, in which two team members, a male and female, competed.

Judging was based upon both the time it took the teams to complete the events and the accuracy and skill with which the tasks were performed.

Varichak said that the team has been fundraising for nine months in order to make the money needed to get to Australia. "There's been lots of university support, including USG, the parents fund, the president . . .and alumni," she said.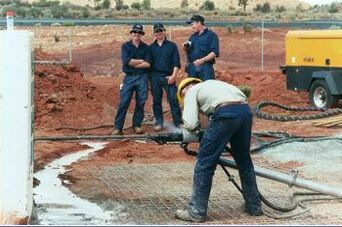 The competition has traditionally been held on U.S. soil. This is the first time that it has taken place overseas.

"The holding of the games in Kalgoorlie . . . will provide a unique opportunity for North American students and others to visit one of the world's best know mining towns, and the centre of Australia's Nickel and Gold Industries," said Professor Eric Grimsey, Director of the Western Australian School of Mines. " This will be an opportunity to visit the true "Outback Australia" at a very affordable time, with one Australian dollar currently valued at $0.50 cents US.

The competition was also held in conjunction with the "Australian Institute of Mining and Metallurgy Youth Leaders Conference". This was a major national student and young leaders event, which provided a chance for visiting students to get to know one another and their hosts.

The MTU Mining Team spent three days in Perth, which is 600 km west of the competition. While in Perth they spend time attending the conference and visiting the Curtin University campus before the actual mining competition began.